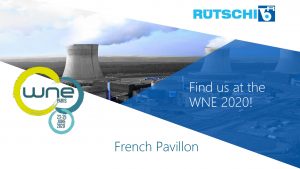 Come and meet us at the  WNE (World Nuclear Exhibition), which will be held from the 23th to the 25th of June 2020 at Paris-Nord Villepinte. 
We will be present on the French Pavillon ; and we will be pleased to exchange about your different projects and your needs in centrifugal pumps for nuclear applications.
Rütschi, a nuclear center of excellence.
Rütschi is a major partner in nuclear safety with more than 5,000 pumps supplied worldwide on more than 110 nuclear power plants. 
We are also involved in the safety of new generation reactors: Rütschi is a key partner in Post Fukushima projects as well as in plants life-extension programs by offering reliable and proven technical solutions.